AmEx Platinum Card Review (2023.6 Update: 125k+$200 Offer)
Non-affiliate disclosure: all information about the this card have been collected independently by US Credit Card Guide and has not been reviewed by the issuer.
---
2023.6 Update: All 150k+$200 special referral links are expired. The current best offer is 125k+$200. You may need to use incognito mode to see it. This offer expires on 06.07. It's unknown whether the offer will get higher or lower after that date, and i guess most likely it will go lower.
Application Link
Benefits
125k+$200 offer: Earn 125,000 MR points plus $200 statement credit after you spend $6,000 in the first 6 months. The recent best offer is 150k+10x on restaurant.
We estimate that Membership Rewards (MR) are worth about 1.6 cents/point, see below for a brief introduction. So the 150k MR points part of sign-up bonus is worth about $2,250, and the value is even more if 10x on restaurants earning rate is counted in!
Earn 5x MR points for flights booked directly with airlines, on up to $500k. Earn 5x MR points for flights and prepaid hotels booked with AmEx Travel. Earn 1x MR points per $1 spent on all other purchases.
This card offers varies credits to cover some expenses, see details in the next section.
$800 Cell phone protection: get up to $800 per claim and 2 claims per year in cell phone protection against covered theft or damage for phones listed on your monthly cell phone bill when you pay it with your eligible credit card. Deductible $50.
No foreign transaction fee.
Complimentary access to the following airport lounges:
Fine Hotels & Resorts (FHR): if you book hotels through FHR, you can enjoy the benefits of elite members; such as room upgrades, free Wi-Fi, free breakfast, etc. The benefits vary by hotels.
Complimentary Marriott Bonvoy Gold Status. Use this link to activate.
Complimentary Hilton Gold Status. Use this link to activate.
Complimentary membership for Avis, Hertz, and National membership. Use this link to activate.
Platinum Card Concierge service: for the busy or even lazy, you can use this service to book hotels or reserve restaurants and so on, the service is said to be very, very good.
With this credit card, you can get access to Amex Offers, which often offers very good discounts at some stores. In the past we have seen offers like: Spend $15 or more and get $5 back at Walmart; Spend $75 or more and get $25 back on Amazon.com.
Refer a friend: You can earn 15,000 bonus MR points for every approved account you refer, up to 55,000 MR points per calendar year.
This card is relatively easy to get approved for because it is a Charge Card, not a Credit Card. Charge card means that you don't have the option to pay only minimum payment, you have to pay your balance in full on the due dates. Note that Charge Card applications will also result in a Hard Pull, just like Credit Card applications.
Charge Cards have no pre-set spending limit.
Varies Credits
This card has varies credits to cover some expenses. They are:
[$200 airline fee credit] Get up to $200 credit for airline incidental charges such as checked bags per calendar year. Airline ticket itself is not eligible. Because this benefit resets according to calendar year instead of when you opened the card, you can actually get airline fee credit TWICE before the second annual fee posts! Note that this benefit is not automatically enrolled, you need to enroll and specify an airline by clicking here.
[$200 FHR/THC hotel credit] Get up to $200 credit on prepaid Fine Hotels Resorts (FHR) or The Hotel Collection (THC) bookings per calendar year. Bookings of THC require a minimum stay of 2 consecutive nights. Because this benefit resets according to calendar year instead of when you opened the card, you can actually get airline fee credit TWICE before the second annual fee posts!
[$200 Uber credit] Get $15 Uber credit per month except Dec, and $35 in December. That's $200 per year. The unused credits will expire every month.
[$100 Saks credit] Get up to $50 in statement credits on Saks Fifth Avenue from January through June, and up to $50 from July through December. Both online and in store will work. No minimum purchase required. Enrollment required.
[Complementary Walmart+ membership] Pay your Walmart+ membership with your AmEx Platinum card, and you will get full credit back ($12.95/month).
[$100 Global Entry credit] Get $100 credit for Global Entry or $85 credit for TSA Precheck application fee.
[$179 Clear credit]. It's the same amount as the Clear annual membership fee. It's useful if you fly a lot, but the value is not much.
[$240 Digital Entertainment credit]. Get up to $20 per month, only works at: Hulu, Disney+, Audible, and several other specific merchants. The value is essentially 0.
[$300 Equinox credit]. Get up to $300 per year on Equinox membership fees. The value is essentially 0.
Disadvantages
$695 annual fee, NOT waived for the first year. Note that annual fee does not count towards the minimum spending requirement (and this is true for all credit cards)! 
Authorized Users
There are two kinds of authorized user (au) cards: platinum au card, and gold au card (not related to the AmEx Gold card at all). Au cards do not have separate credits.
Platinum au cards have annual fee: for up to 3 platinum au cards, the total annual fee is $175. Platinum au card holders have separated PPS card, have access to all the airport lounges mentioned above, get complimentary hotel status, and can use FHR benefits.
Gold au cards have no annual fee, but there's no additional benefits.
Introduction to MR Points
Recommended Application Time
You can only get the welcome bonus once in a lifetime, so be sure to apply when the historical highest offer appears.
AmEx doesn't care about the number of hard pulls.
You can try to apply for it when you have a credit history of 6 months.
You must wait at least 90 days between the application for different flavors of AmEx Platinum cards, otherwise the application will be cancelled.
Summary
These years the welcome offer on this card becomes higher and higher, and it's frequently #1 on the welcome offers rank. Therefore this card is worth opening.
You can earn 5x MR points on air tickets with this card, and it is the best earning rate across all cards. Also this card now comes with a trip delay insurance which can be triggered by a 6+hrs delay, so it has become the best card to buy airline tickets. There are also a lot of other benefits such as more lounge access than other premium cards, the FHR, etc. If you can take advantage of these benefits, this card may be a keeper.
The annual fee is now increased to $695, and at the same time there are even more credits. People joke about it and call it a "coupon book card". These credits can somehow offset part of the annual fee: the $200 air incidental credit can be used by some techniques, so we value it at 70% of its face value and that's about $140; the $200 FHR/THC hotel credit can be useful if you find some hotels with a cheaper price, so we value it at 70% of its face value and that's about $140; the $200 Uber credit is distributed and expires every month, so we also use 70% of its face value which is about $140; the $100 Saks credit is worth about $70 if also valued at 70% face value. The value of the other credits are basically 0. Considering the annual fee is so high now, it's hard to get positive value if you don't go out and travel a lot.
If one day you don't want to keep this card any more, but still want your remaining MR points, you can apply for the AmEx EveryDay (ED) (no annual fee) to keep the MR points and use them in the future.
To Do List After You Get The Card
Enroll in Airline Incidental Fee Credit benefit and choose a carrier. You must enroll and choose a carrier prior to making a reimbursable purchase.
Add your card to Uber or UberEats.
Enroll in Saks Credit benefit.
Enroll in Priority Pass Select (PPS) lounge benefit.
Enroll in Marriott Bonvoy Gold status.
Enroll in Hilton Gold status.
Enroll for Avis, Hertz and NationalCar Rental status privileges.
Enroll in Walmart+ membership.
Apply for Global Entry ($100 reimbursement) or TSA PreCheck ($85 reimbursement).
Related Credit Cards
Note that, although the look and benefits of the following cards are almost the same, they are different products, and they don't affect each other's welcome offer. See this post for the comparison of benefits.
Recommended Downgrade Options
After Applying
Historical Offers Chart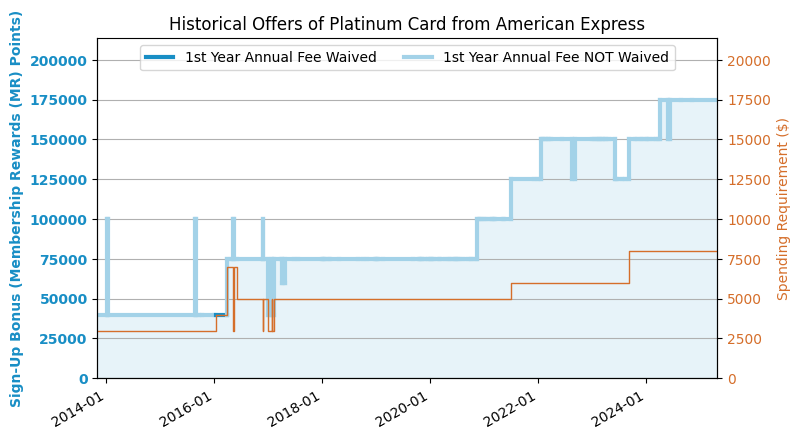 Application Link
---
Share this post with friends
If you like this post, don't forget to give it a 5 star rating!
[Total: 

19

   Average: 

4.1

/5]
Products You May Like